Hello everyone! I am going to do 5 different polishes today, and then 4 tomorrow to make up all the updates I have missed. Well I had a sinus infection and bronchitis, that's why I've been sick for the past two weeks. I went and saw my old physician and they gave me the proper medication so I can finally get back to normal! A little coughing and wheezing, but less sinus pressure and no more stuffy ears. Oy, what a nightmare that was. Thank you to everyone for their well wishes, I will soon be back full swing! A side not, we are almost to 300 days of non-stop polish madness! This is crazy, getting close to a whole year of polish!
Brand:Hedy's
price: $.75 (clearance)
I was lucky to find 4 bottles of this brand on clearance this past weekend. I was so happy with the coverage, formula and pigment. I'm glad I had a chance to grab a new company I've never tried before at an amazing price. I will keep an eye out for this brand again.
Brand: ELF
pigment:a simple nude color
price: $10.00/14pc set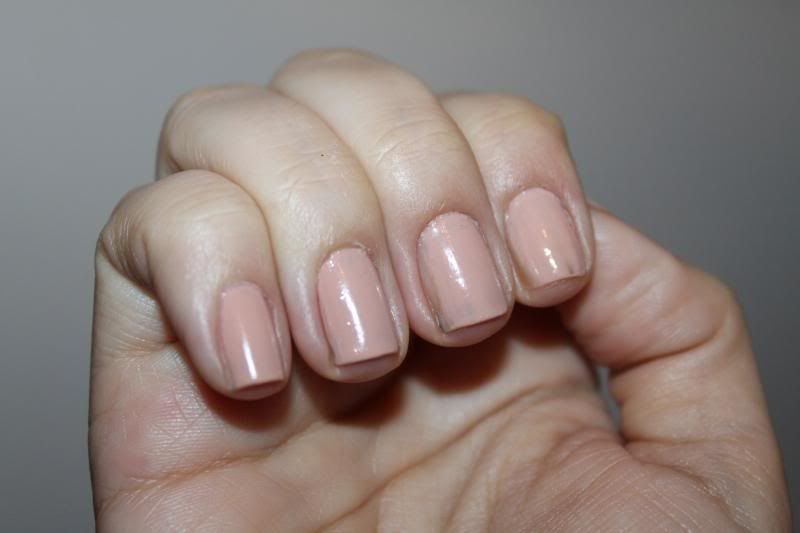 This was one of the colors that came in my 14pcs ELF polish sets. A simple nude polish with nice coverage. I only did 2 coats because I had a plan with mani.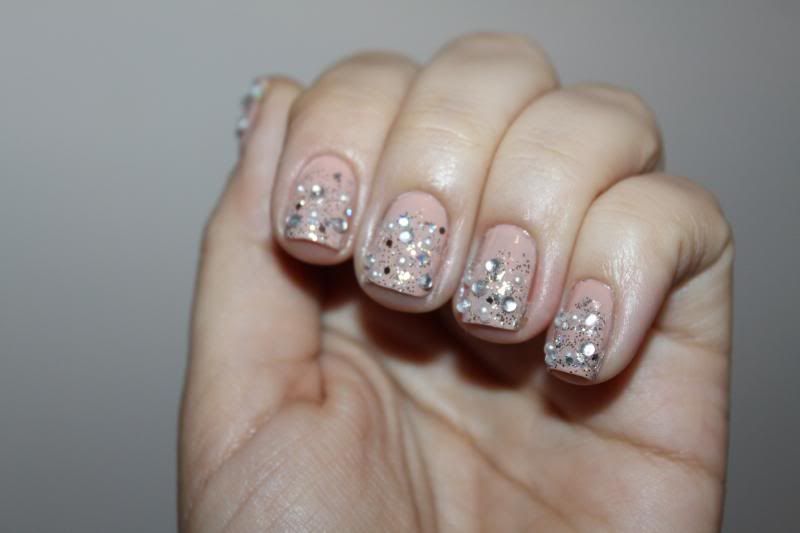 I added some silver mixed glitter polish, round rhinestones and some pearl rounds to make this sparkling manicure to make this pop!
Brand: Color Club
pigment:a bright cobalt blue
price: $9.99/7pc set
Oh this is a beautiful shade of blue. I got full coverage with 3 coats. I must admit the polish did get a little thick after having it open for a bit, but I just closed it and gave it a little shake and it was fine.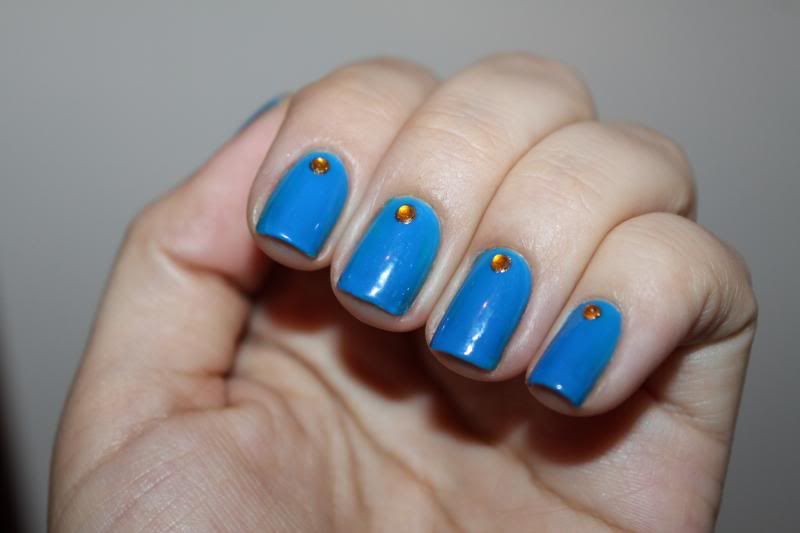 Keeping on the rhinestones I added a dot of gold polish and added a round golden rhinestone to add a little bit of flair to this look.
Brand: Sally Hansen
pigment:a light peach with white shimmer

A simple peachy polish with a white shimmer undertone. I must say it was a bit on the thin side, but it was a very lovely color.
I added a layer of Penny For Your Thoughts from the new WNW Fastdry release. It has an orange tone to it with mixed glitters in it. Brightened the color up a bit.
Brand:Color Club
a bright and eye catching bright green. I got full coverage with 3 coats of this polish. I must say it was a bit on the thin side, so I almost did 4 coats but held off.
I know, I am having too much fun with my rhinestones. I decided to take some blue triangle rhinestones and put them by the cuticle. I think the colors looks great together and are simple yet playful!