My what a super busy week I've had! Training, healing, sunshine, rain and a wonderful turkey dinner! Now I have a moment to sit down and post up some photos! Just a note, I am flying out of state for more training next week. I don't think I am going to post on the road with 8hr days and an unknown roomie that may or may not like nail polish. I will update when I return! I'm flying out Monday morning and returning Friday evening, so maybe an update next Saturday. But enough about work, let's get onto the polish!
Brand: Essence
pigment:a bright neon green
price: $1.99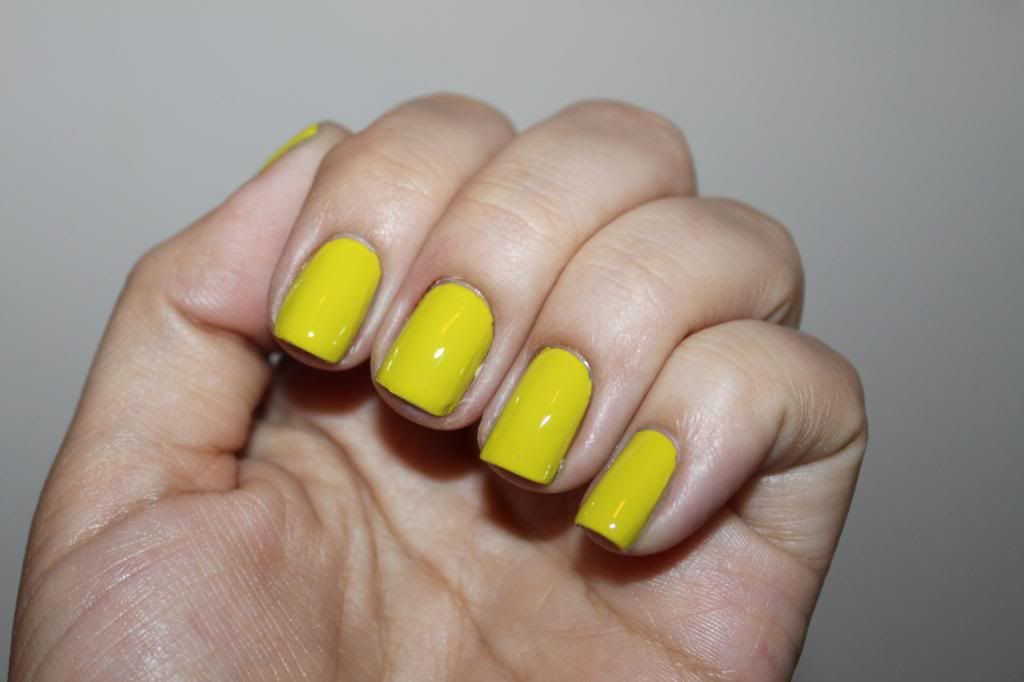 I was in the mood for a nice bright green, so I reached for this polish. This was part of Essence's last polish release I believe. One of the harder polishes to find around here because of the great colors and great price (I can only find it at Ulta) A smooth and creamy coverage with wonderful bright pigment.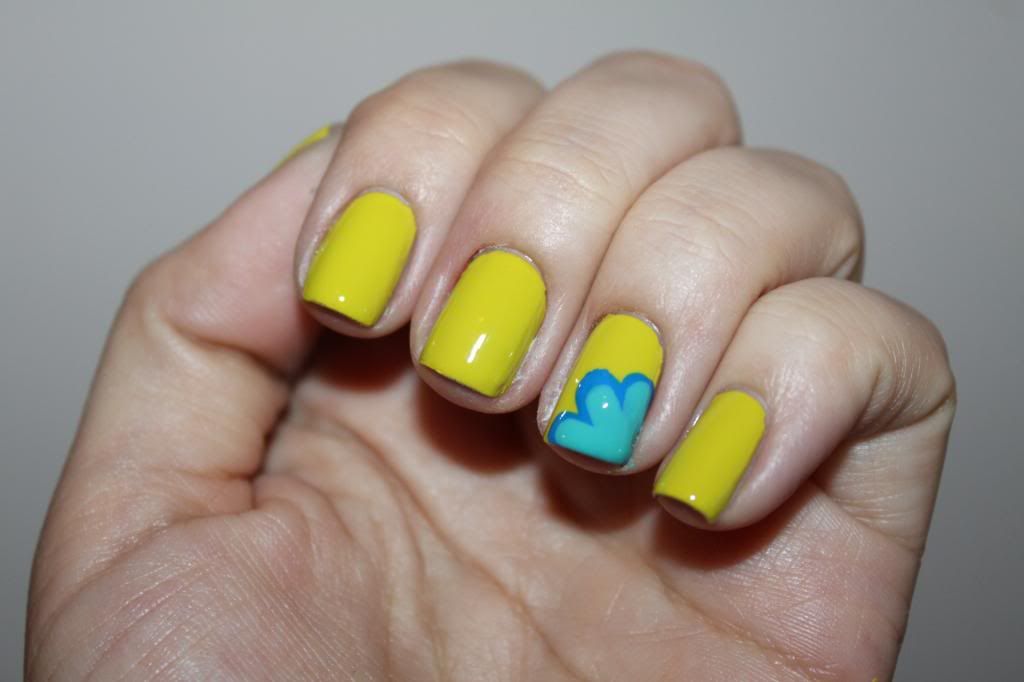 To make this manicure a little more unique I added an accent nail to my ring finger. I used Blue Me Away by Sally Hansen as the dark blue, and then used LA Colors Sea Foam as the light teal. I think these colors work so well together!
Brand: Rimmel London
pigment:a pastel lilac polish
price: $1.98
I was feeling a bit of a lighter and softer color, so I reached for this lovely pastel polish from Rimmel London. I love this formula! Quick drying, beautiful pigment and a smooth finish.
To add a little flair to this mani I added a coat of Quartz Of Course by Wet N' Wild. I think they work very well together with the chunky purple and silver glitters.
Brand:Fergie
pigment:a metallic gold polish
price: free (from sister)
I found this polish in a bag I borrowed from my sister, and well I kept it! A simple metallic gold polish with beautiful coverage in an easy two coats. A smooth finish and beautiful color.
I added Hard Candy's Black Tie Optional over this gold to add a bit of attitude. I love this muli sized and shaped polish. It reminds me of a lot of the indie polishes that I've seen out there, without the $10 a bottle price tag. I don't think you can go wrong with this over any color!
Brand:Jordana
pigment:a simple jet black polish
price: $1.99
I did this mani last week after seeing
cutepolish
's video up on youtube. I've seen this design around and gave in after seeing how damn adorable it is. I used a simple glossy black polish as a base. I'm a fan of Jordana polishes, a good formula for a good price.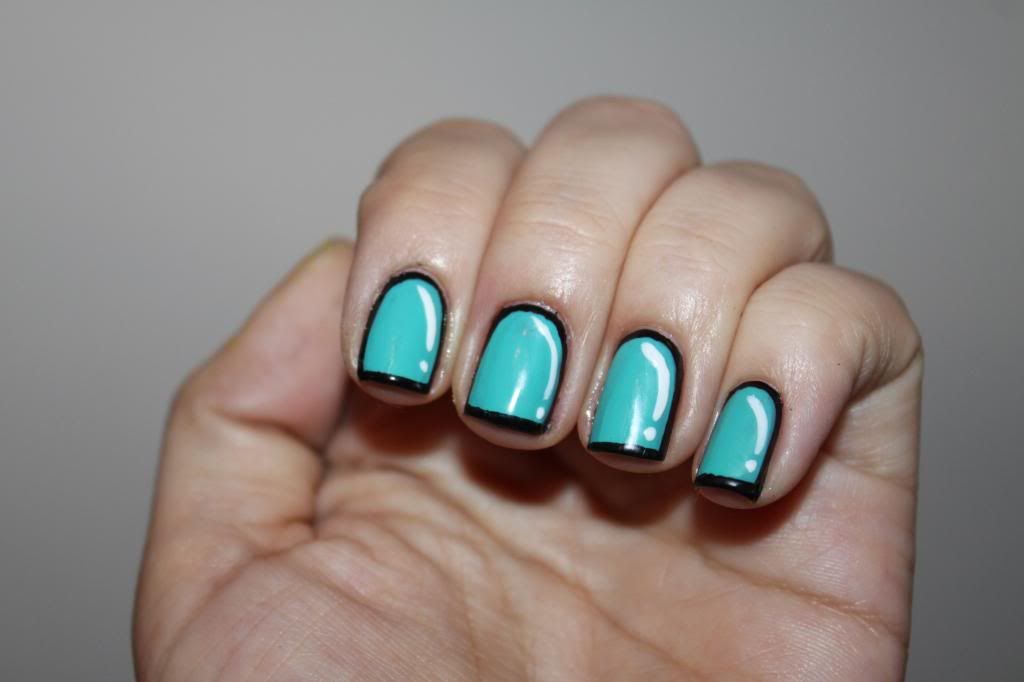 I used LA Colors Sea Foam as a fill in color and hit this mani with a topcoat to make these cartoon nails come to life! I really enjoyed wearing this mani! So different and fun, and kinda plays a trick on people's eyes!
Brand:City Color
pigment:a medium gray with a gold shimmer undertone
price: $.75 (clearance)
I wanted to start a mani off with a deep color and use some neons to make this mani pop! This was the first time using City Color, and I have to say I did enjoy this polish. My only complaint was that the polish handle was a bit on the bulky side and was a bit odd to hold.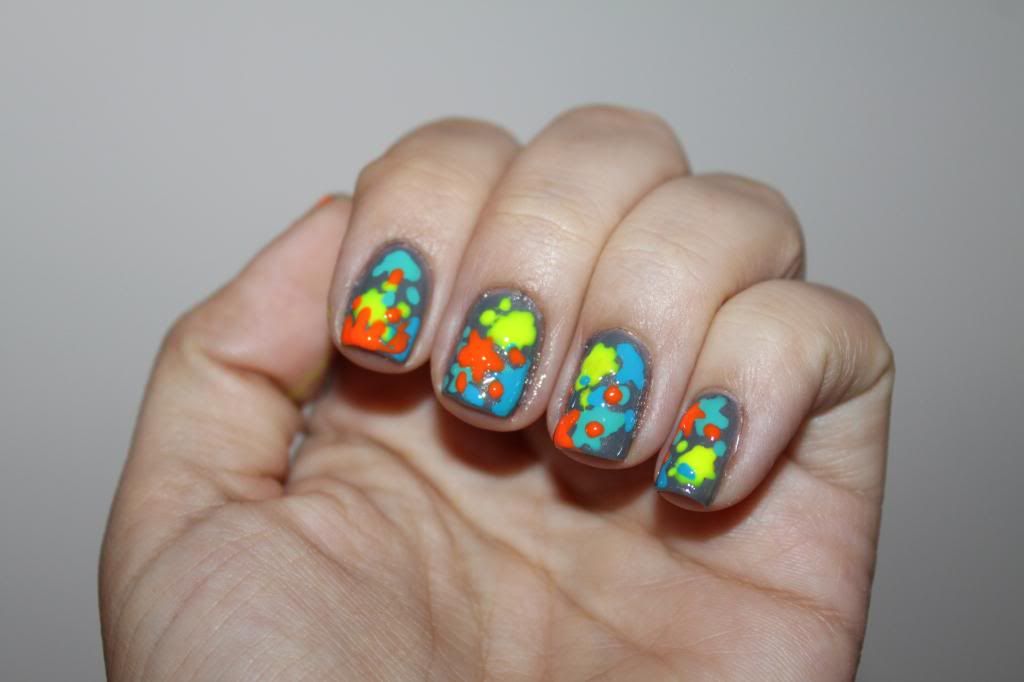 After my polish dried I used a bunch of neons on my nails with random splatter designs. It reminded me of Nick back in the day with a bunch of different colored slime! It was nice to bring in all these fun pops of color
Brand: Finger Paints
Name: Late Night Rendezvous
pigment:a bright glitter blue polish
price: $1.60
I have had this polish sitting around for about a year or so. I think I just forgot about it. It caught my eye and I wanted it, but I just didn't know what to do with it. So I kept it plain and simple. I got full coverage with 3 coats with a nice glitter coverage.