Hello everyone! Wow I have had a very good few days! I want to share with you all that I got myself a new job! I start next month! Getting flown down to Florida to do some training, and then back up here to start up my new career! I can't really go into details about it, but I will tell you what my new job is when I can tell you (yes it's a secret!) So, onto more great news, it's the first day of Spring! Yes mother nature/ father winter played a mean joke on the North East yesterday by sending us 6 inches of snow! We have sunshine today, so I'm ok with that now. Enough chit chat, onto the polish!
Brand: Simple Pleasure
pigment:a thin medium green polish
price: $2.99/7pc set (clearance)
This polish went on very smoothly, and did dry a bit lumpy/matte. so I hit it with a top coat to help smooth it out and to add a bit of shine. This was the look I was sporting on St Patrick's Day. I am Irish, and I proudly wore green and enjoyed some very delicious cornbeef and cabbage!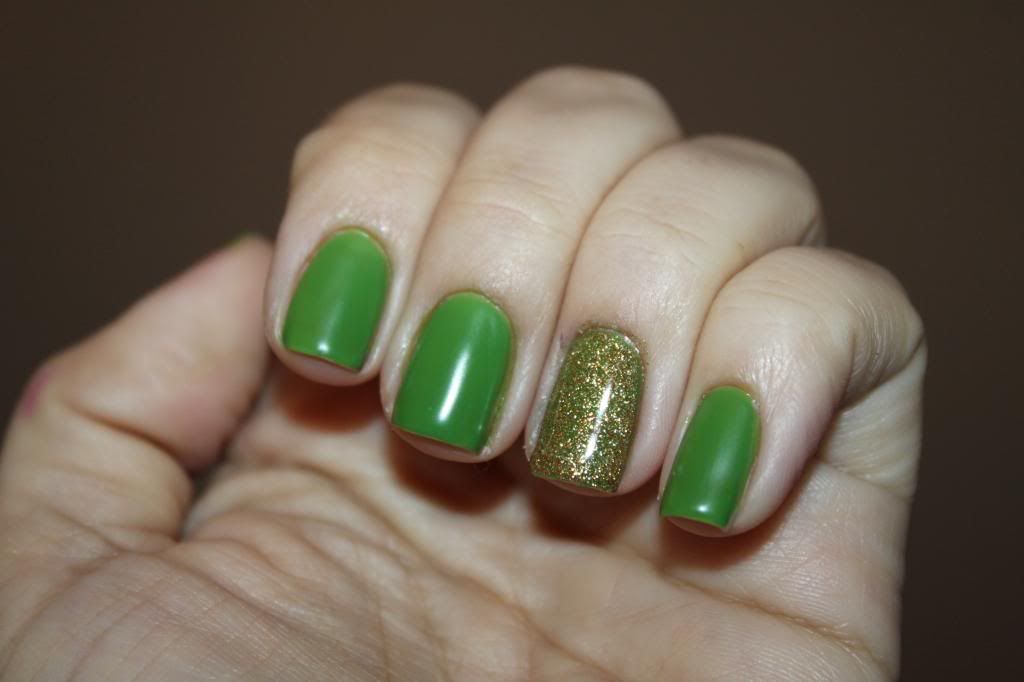 To add a bit of a pot of gold into this manicure I added a gold accent nail. After looking at my nails I decided to go back to a matte finish on the green nails so I hit them with a matte top coat. I think it looks nice and helps the gold stand out just a little bit more.
Brand: Pure Ice
pigment:a bright metallic orange
price: $1.98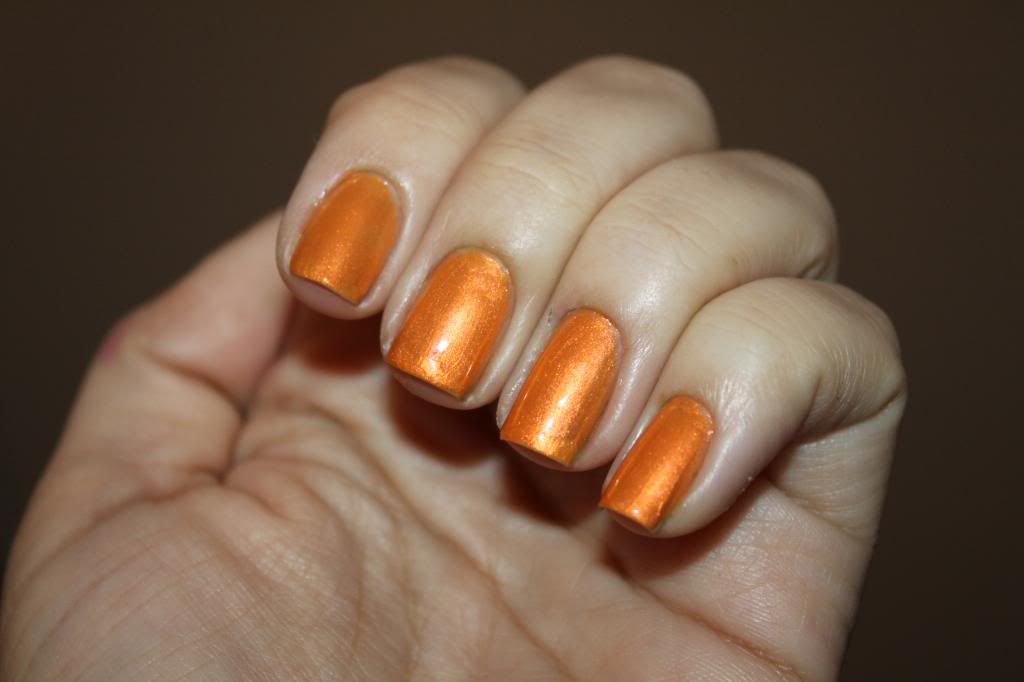 I asked my Mom what color I should paint my nails next, and of course she chose her favorite color...orange. So I went into my orange polish section and found this hidden gem tucked away in there. I've had this polish since last year, but totally forgot about it! It was a nice metallic orange with some flair to it. My only problem is that the polish did finish with some brush streaks, but I can overlook that with the beautiful metallic finish.
Brand: Loreal
pigment:a mixed metallic platinum polish
price: $1.49 (clearance)
This was a polish that I got last year when Loreal re-did their bottle cap designs. This polish has amazing coverage and a beautiful metallic shine. I could have got full coverage with just one coat, but I went over one more time just to be sure I didn't have any thin spots on my nails.
Brand: Sally Hansen
pigment:a bright pink with a gold metallic shimmer
price: $2.49
Oh this is a hot pink. This is a total eye-catching, in your face, screaming out loud hot pink! I was in the mood to try this color on to do an ombre design with a dark color at the tips. I think it worked out well.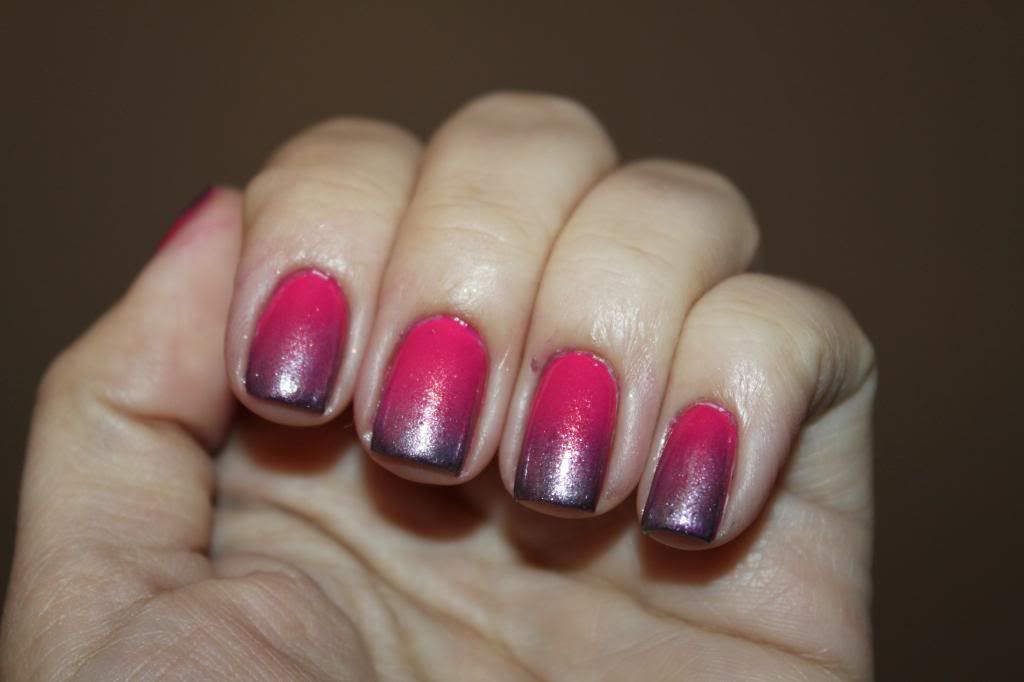 Here is the tips done with a deep metallic black color. I think it looks nice with the two colors blending together. I think it looks really cool how it starts dark and then sparkles off into the hot pink. I need to mix different colors more often to get some new ombre looks going.
Brand: Color Club
pigment:a sweet pastel blue
price: $9.99/7pc set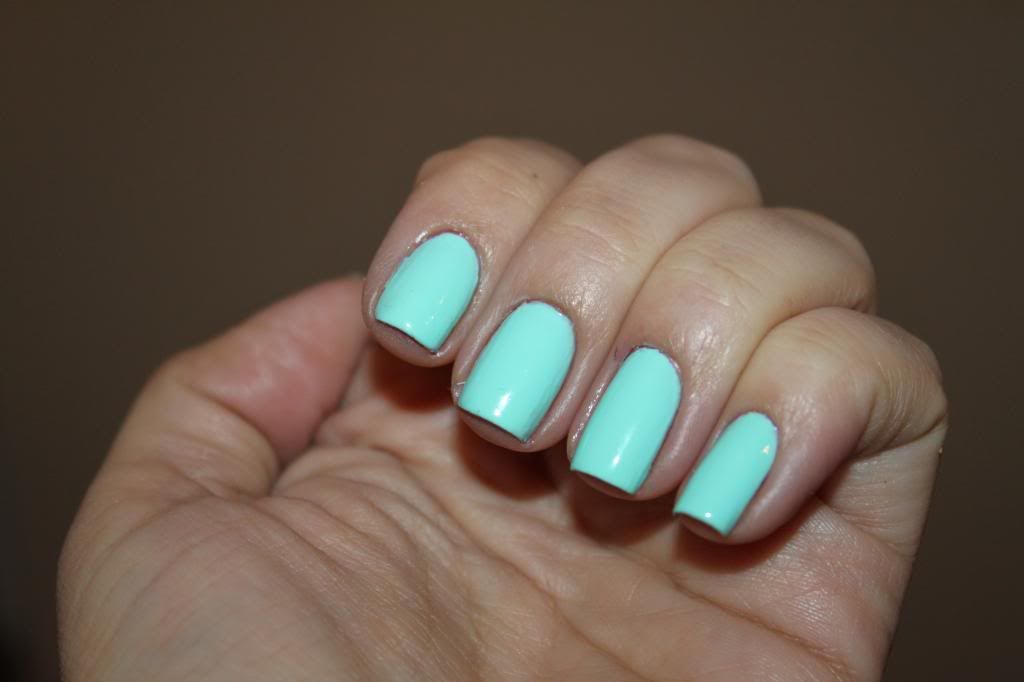 Here we have a lovely pastel blue from Color Club. I found out that I got a set from their 2012 collection with all the pastel colors, I can't remember what collection it's from. But I did find all the polish names for them, and well that really helps! I just did 3 coats of the beautiful pastel blue to help bring in the season right!
Brand: Pure Ice
pigment:a simple black polish
price: $1.98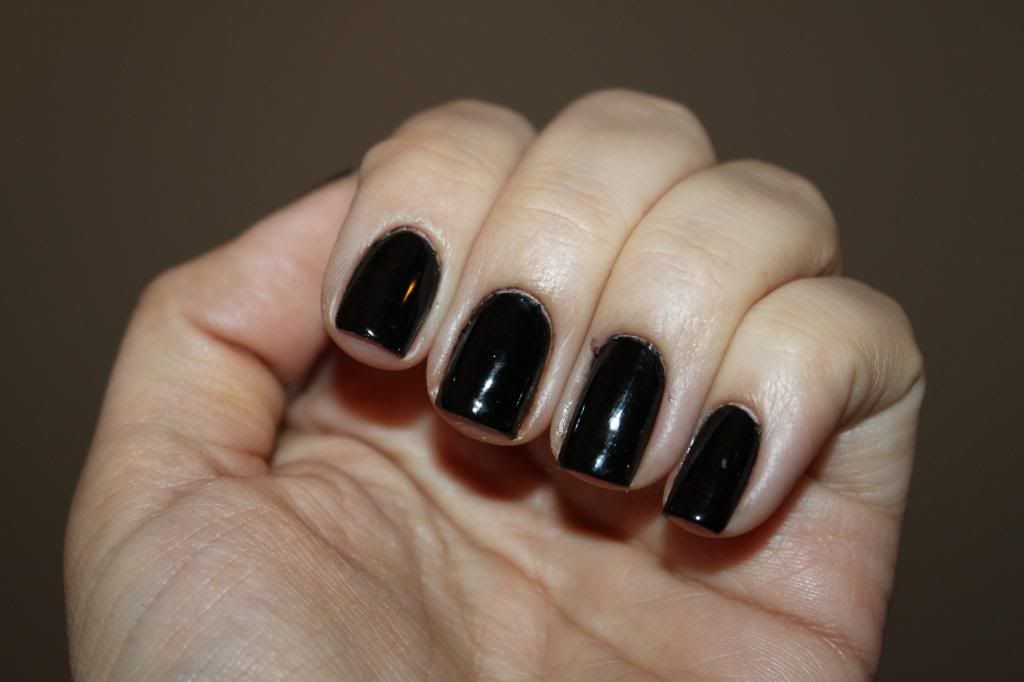 I had big plans for this black, but the end result wasn't that good. I did post it up on Instagram, but I want to just keep it a simple black polish for now. Nothing special other than it's Pure Ice and the polish is awesome.