Hello everyone! Went up into the mountains of Vermont this weekend for some wedding (and snowing) fun. I'm back in the city with some lovely polishes to share with everyone! I'm keeping the intro short and simple tonight, there is polish to look at!!
Brand: Petites Color Fever
price:$.74 (clearance)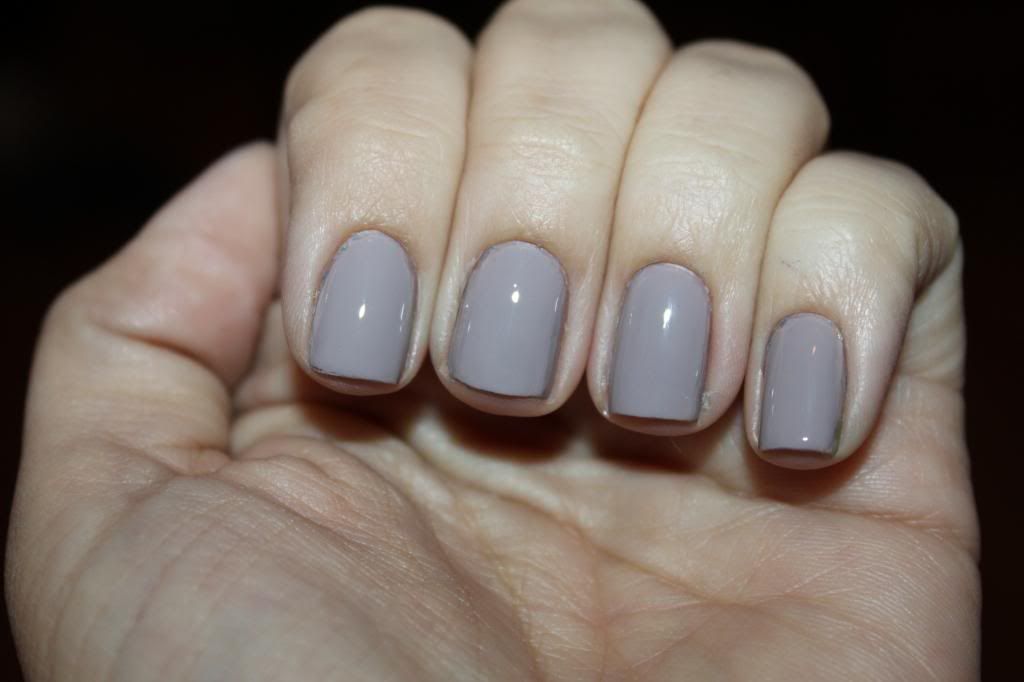 Found this lil gem at a local Rite Aid on clearance! I've noticed a lot of the drug stores have been resetting their setups and have been marking down a lot of their non-basic polishes! I found this beautiful gray polish that was in an old Petites bottle. I couldn't pass up this lovely gray for under a dollar. Great coverage with 3 coats for full coverage.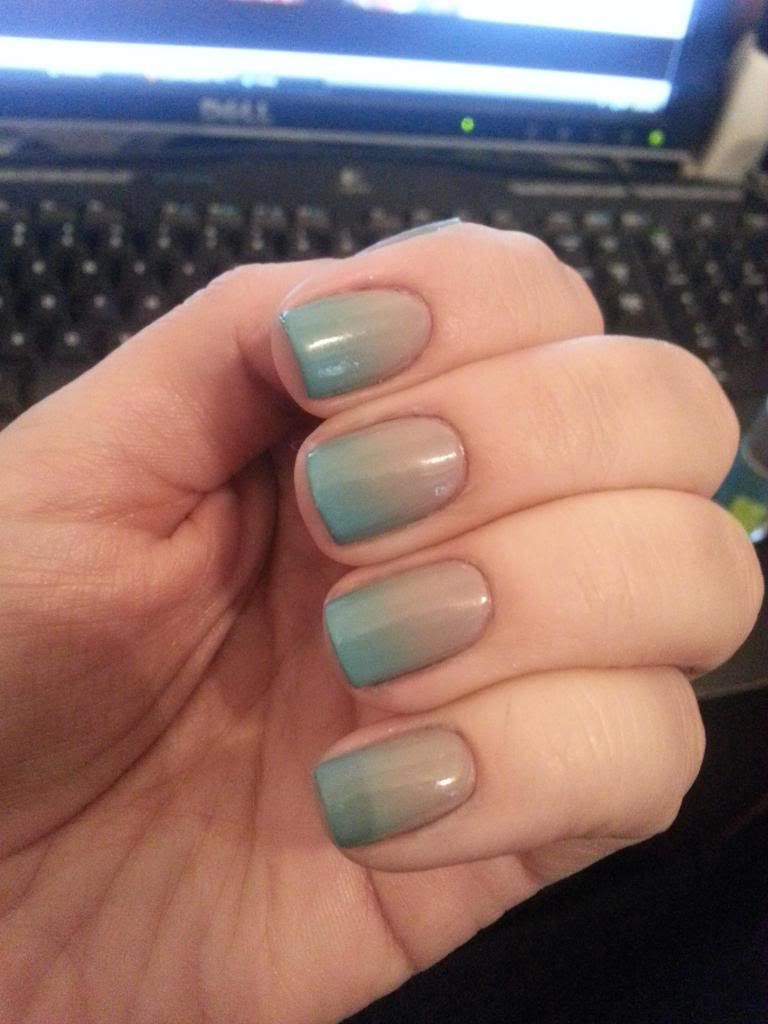 Forgive this photo, I took it with my phone. I did a ombre with another discounted/discontinued petites polish called creme blue. This took about 4 layers of sponging to get the blue to show up as bright as I wanted it to. I think the combo of gray and blue just go together so perfectly.
Brand: E.L.F.
price:$2.99/3pc set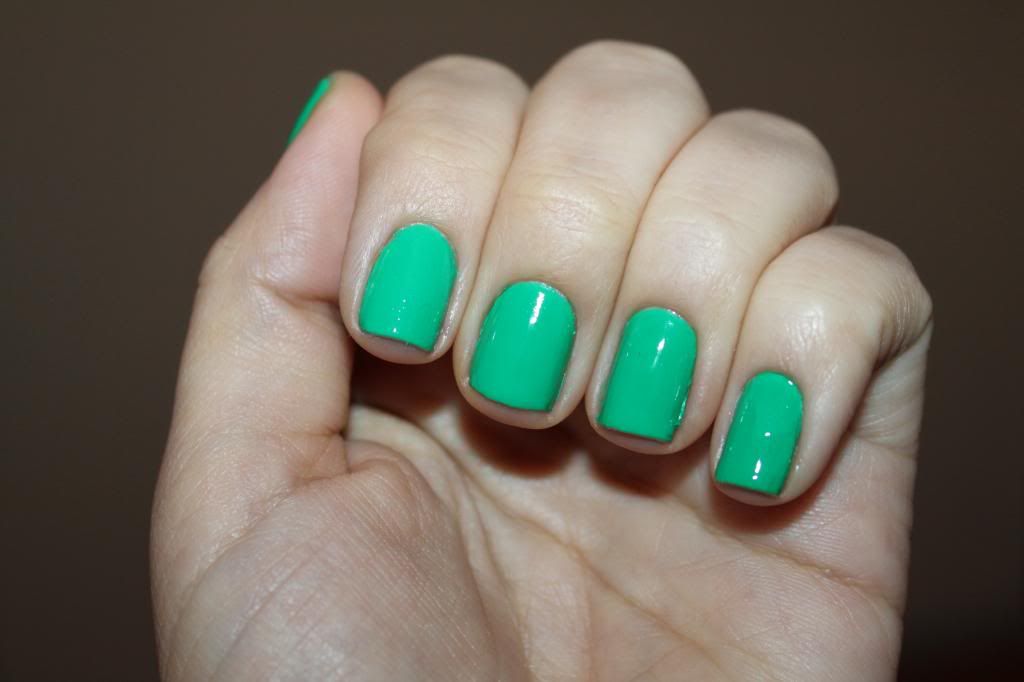 This polish came in a 3pc set I found at Marshalls a little while back. This is a green and vibrant green with very beautiful coverage. It was a bit on the thick side, but it did smooth out once I hit it with a top coat.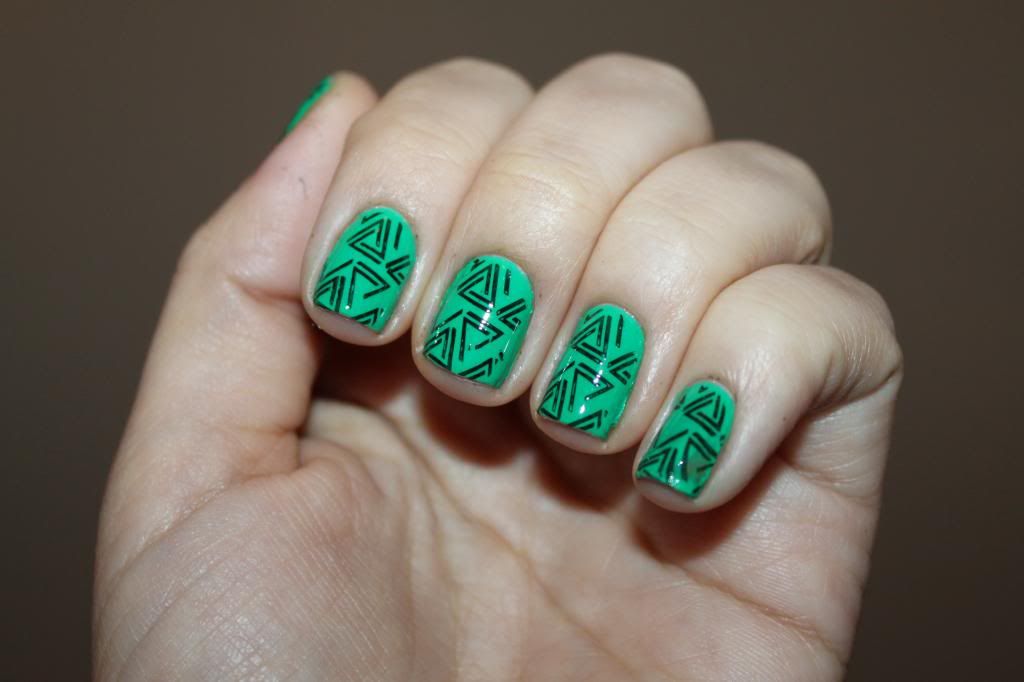 I took this beautiful green and hit it with a nail stamping design from the mash plate-42. I used Jordana Black (creative color name here) to bring this manicure to life. Looking at this design made me do a time warp to the 80's with crazy designs and bright colors.
Brand: Sinful Colors
Name:Sweet Nothing
coats: 2
price:$.99 (sale price)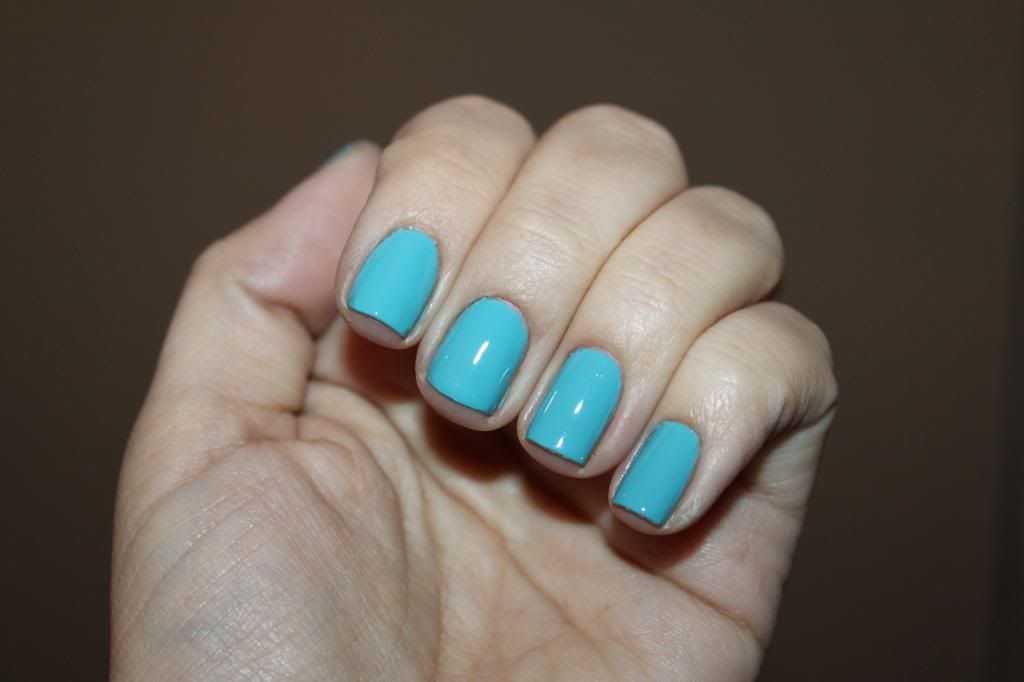 I wanted to try out one of the other pastel colors I picked up a few weeks ago. This is just a beautiful pastel blue that is so beautiful and calming. This polish had great pigment and beautiful and smooth coverage. I just left the polish as is, kept it simple and beautiful.
Brand:Dollar Nail Art Foil
pigment: a wave of pink and magenta
price:$1.00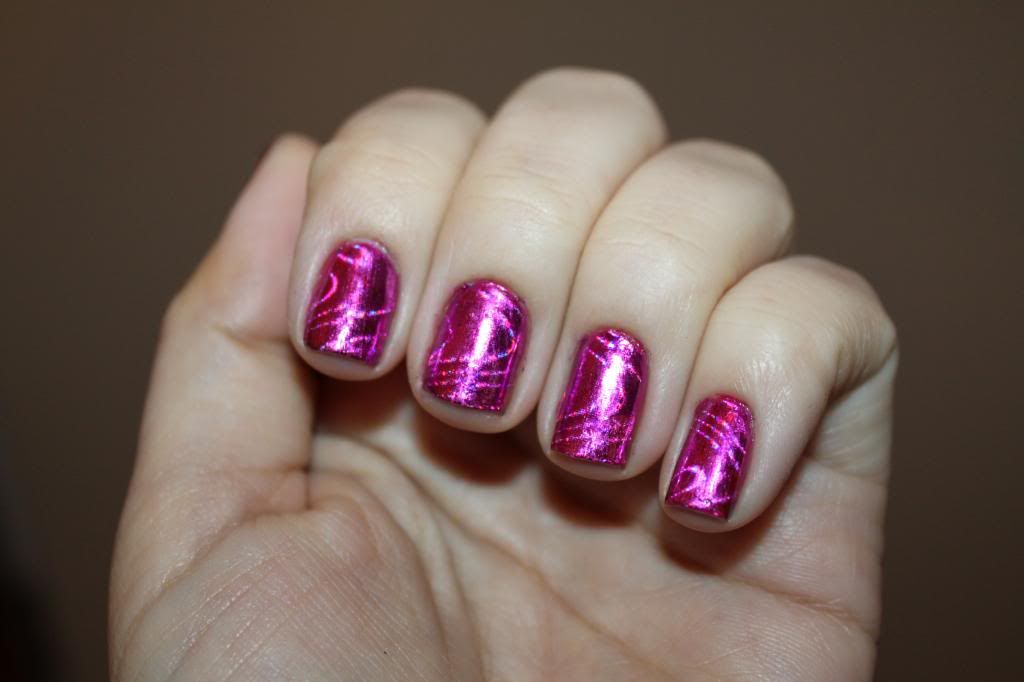 Yet again, another beautiful nail foil! This one looks like a tidal wave of pink and magenta rolling over my nails. This foil is amazingly reflective and shows up beautifully on camera (some foils do not show up that well with the flash) but this photo is very true to life. Loving these foils, just so shiny!
Brand: Dollar Nail Art Foil
pigment: a highly reflective silver foil
price:$1.00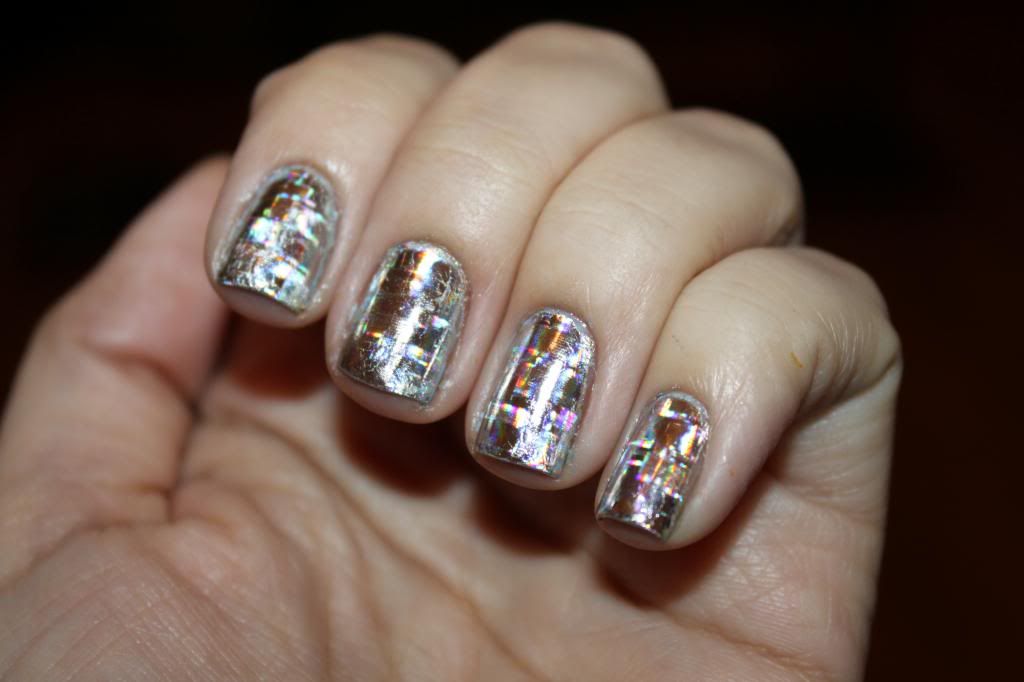 I have another foil that I used for a little manicure fun. This looked like tin foil gone crazy! It has bits of square holographic square bricks going over the foil. This showed up very well on camera with the flash (just like the last foil) This foil is hyper reflective and looks awesome under any lighting!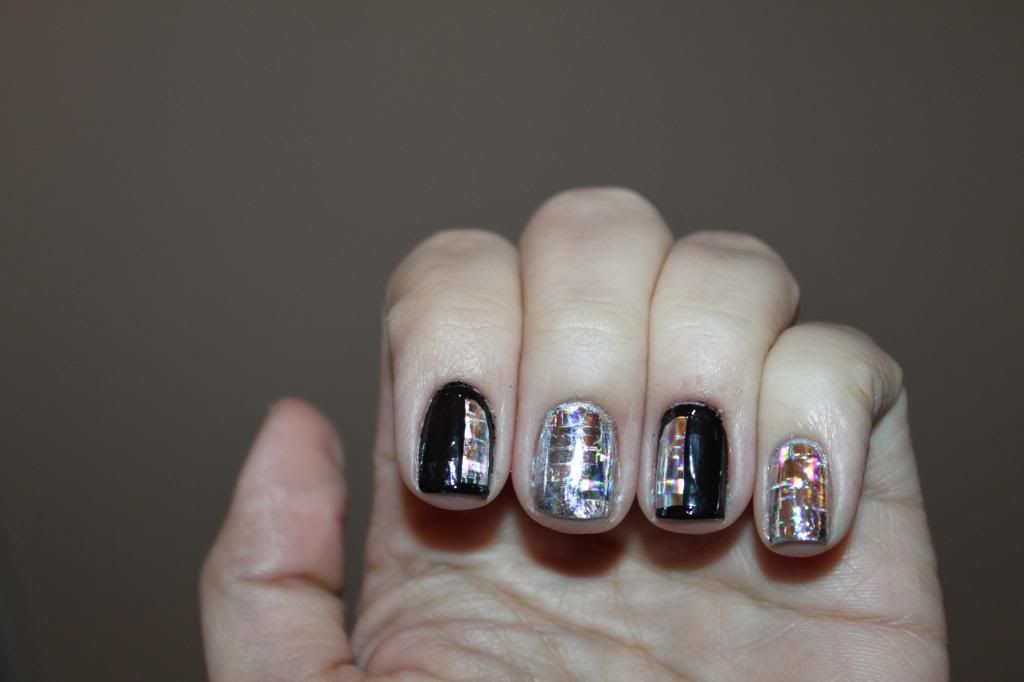 I went with a light blocking design and a mix of a half border nail as well to mix with the foil and glossy polish look. I have to say my border nail skills have improved a lot! I was a bit worried of screwing up the border, but when I finished I was very pleased with the results!!
Brand: Sally Hansen
price:$.2.49 (with coupon)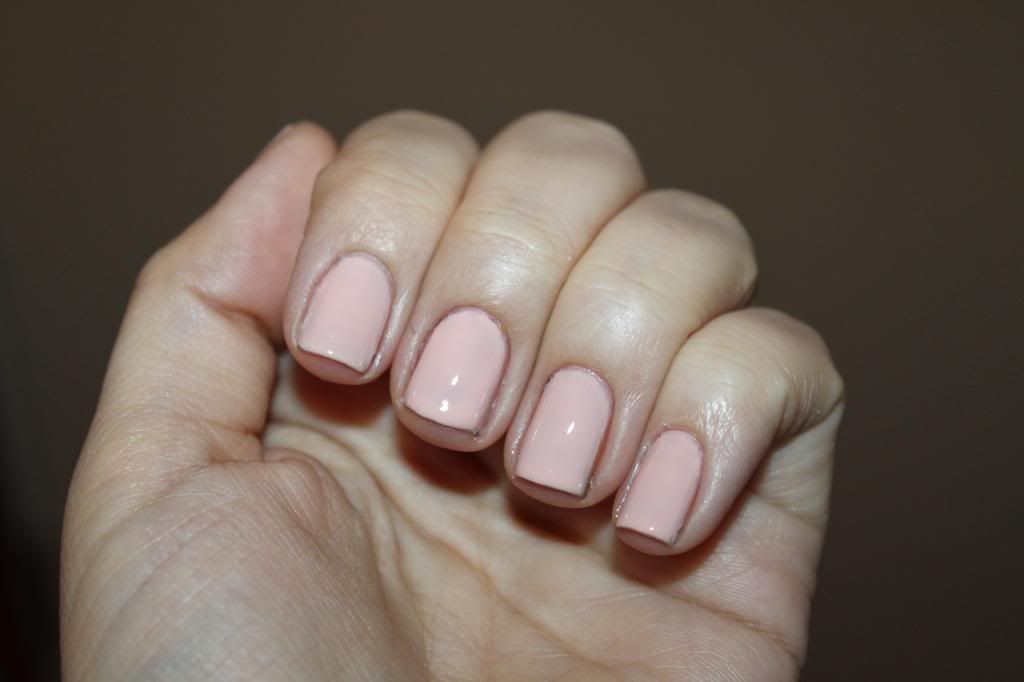 I picked this polish up in a double pack (this color plus instai-dri top coat) at Walgreens with a coupon. I must admit the insta-dri top coat is probably my favorite top coat out there. Back to the polish! I got full coverage with 3 coats with this color. I was worried it would take a lot of coats, but the normal 3 did the trick. I'm not one into the nude nail, but for some reason I am loving the nude nail with colors on top.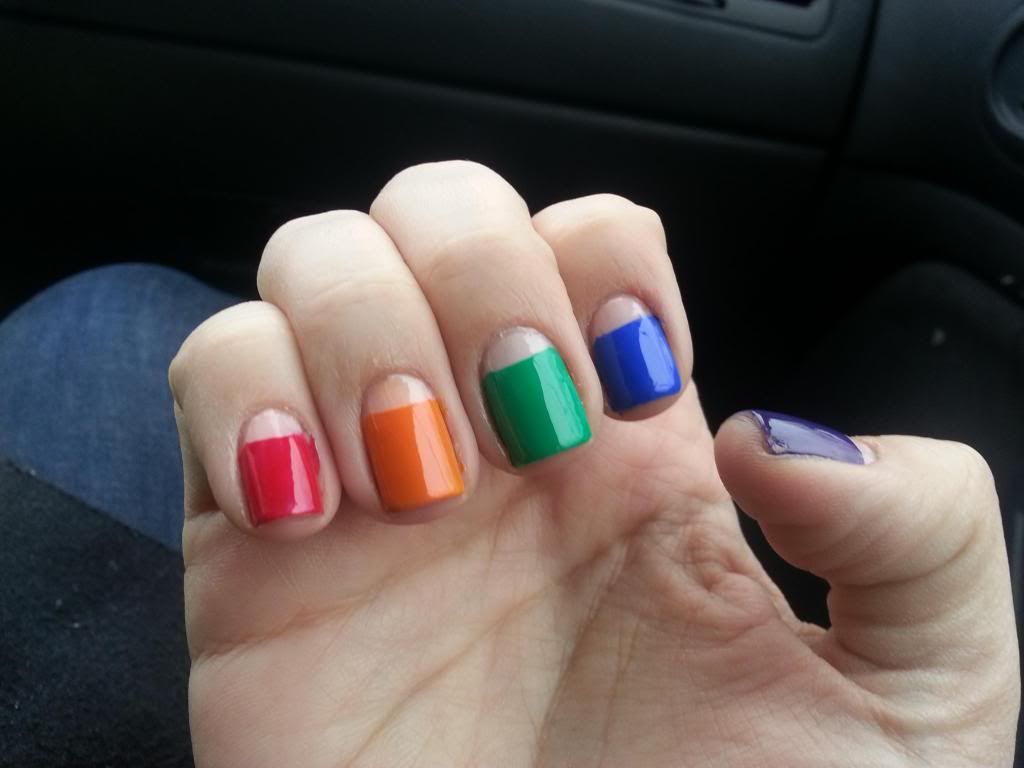 I did a rainbow moon manicure with multiple polishes! This came out so beautiful and clean! From left to right I used:
Sally Hansen Rapid Red
Sinful Colors Clementine
E.L.F. green
Sinful Colors Endless Blue
Sinful Colors Enchanted
this manicure took a very cloudy grumpy day, and filled it with bright and glossy colors. This manicure really cheered me up, and I hope it cheers you up too.