Happy Tuesday everyone! I was out of state all this weekend visiting Philadelphia! I had a great time with friends and enjoyed my trip very much! I cam back and had a bit of a rest day on Monday and I'm back with some lovely polishes to share with you!
Brand: Jordana
pigment: a bright and flirty teal
price:$1.99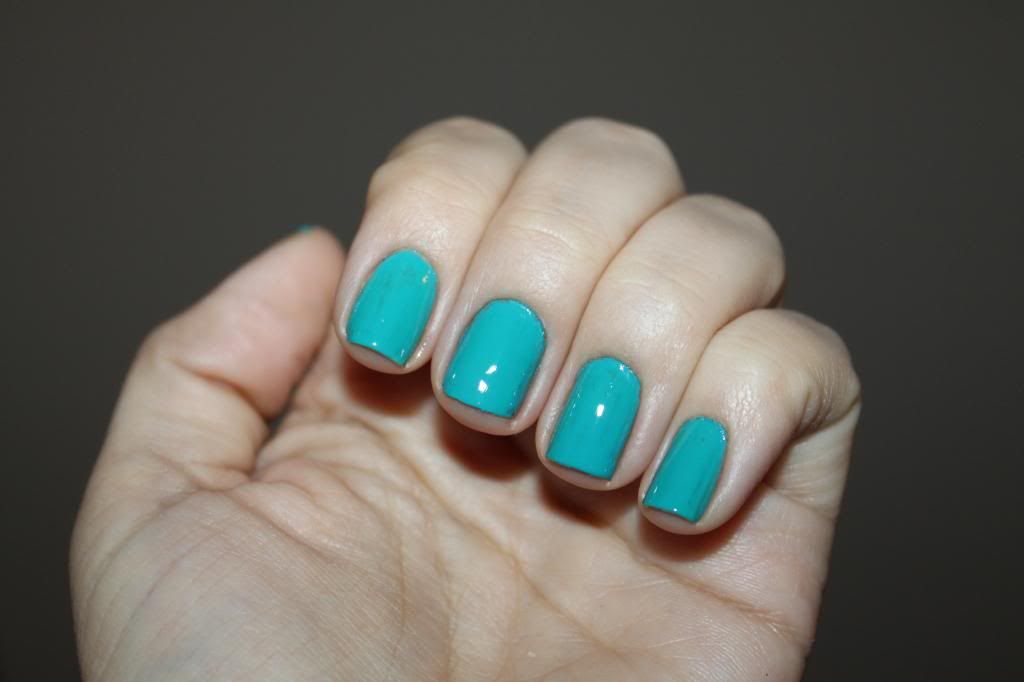 I totally forgot I had this beautiful teal color. I t went on so smoothly and was just so bright and creamy. This is a great shade, and the price is not bad either.
Brand: Sinful Colors
pigment: a beautiful pastel lilac
price:$.99 (sale price)
This is part of the new Sinful Color Sugar Rush collection that just came out. It arrived just in time for Spring. I only put two coats on because it looked like it had full coverage, but with the flash it shows that I should have gone with one more coat.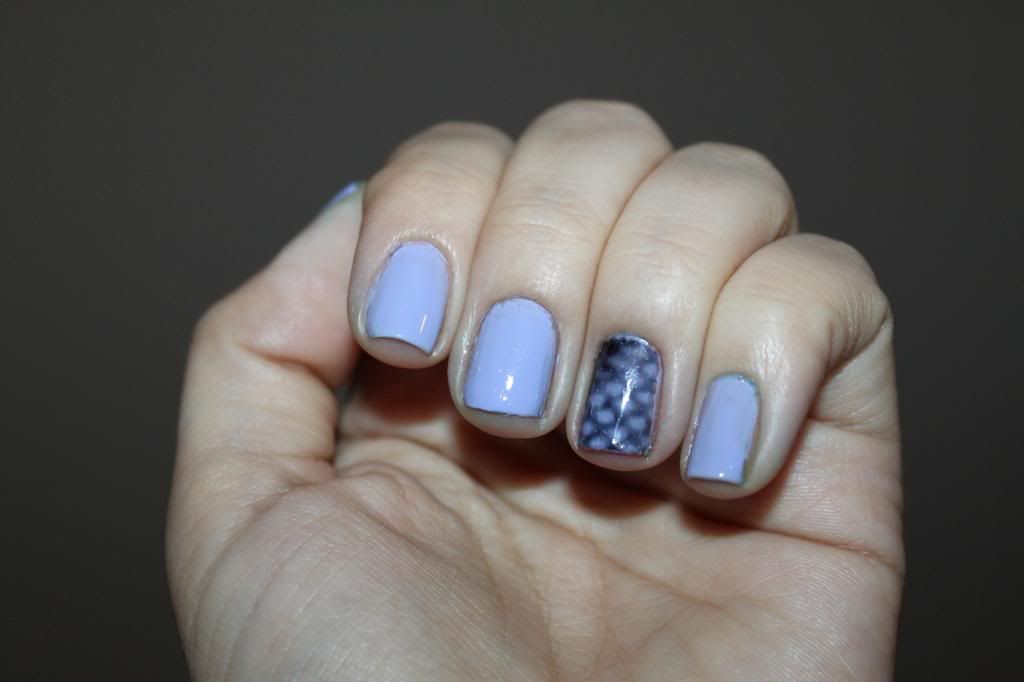 I took this color and put an accent nail foil on my ring finger with the nail foil called Snake Skin. This was more of a transparent design more than a foil. I think it came out looking very cool an unique, I definitely want to try this with more colors.
Brand: Loreal
pigment: a medium deep creamy purple
price:$3.49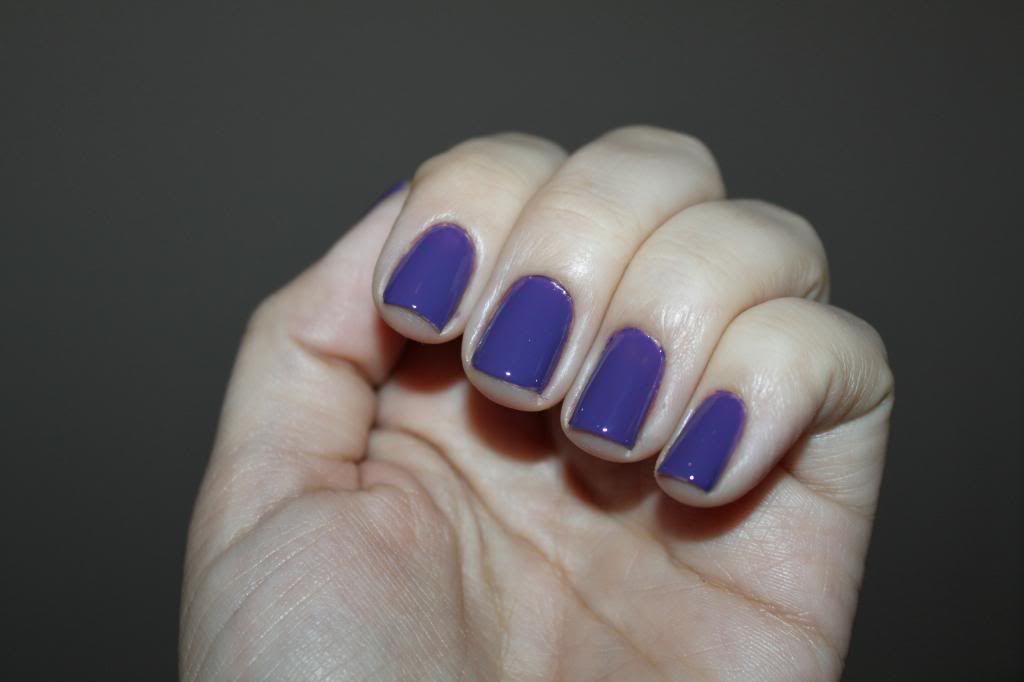 This color dries a bit deeper than it looks in the bottle, and well I really don't mind. This purple is a deep and creamy shade that is just so beautiful to me. It has a bit of a blue undertone, but does come off as a strong purple. I love Loreals formula for their polish, and this might be one of my top 5 favorite colors by them.
Brand: Wet N' Wild
price:$.99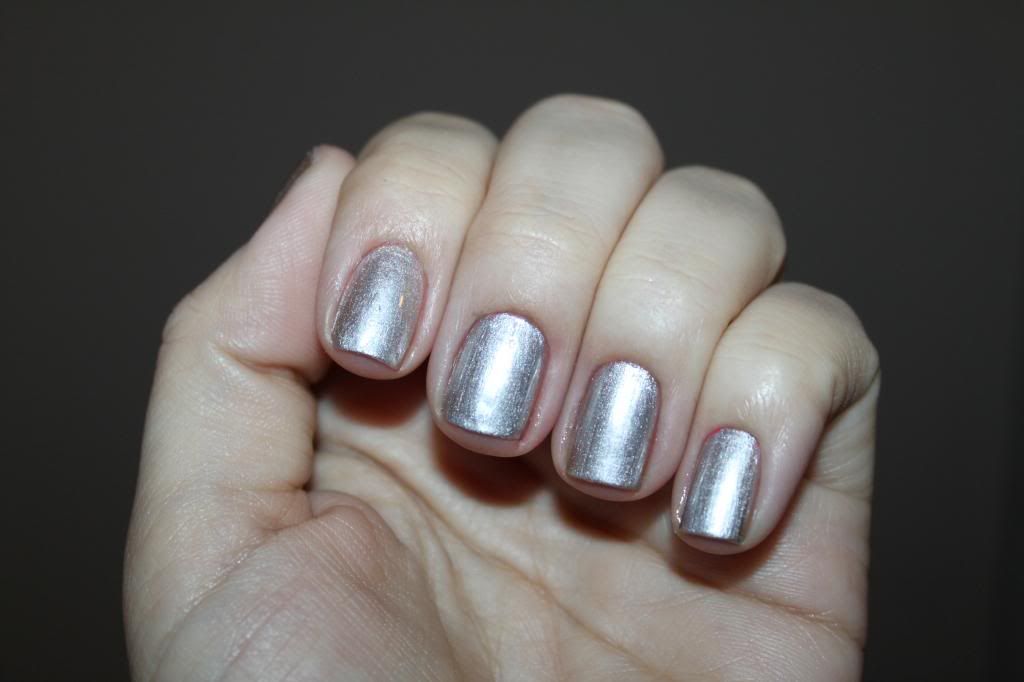 I've had this polish for sometime, to be honest I think I have 2 bottles of this color. This has been a basic staple color lineup by WNW for some time. A beautiful formula with great coverage and a great price.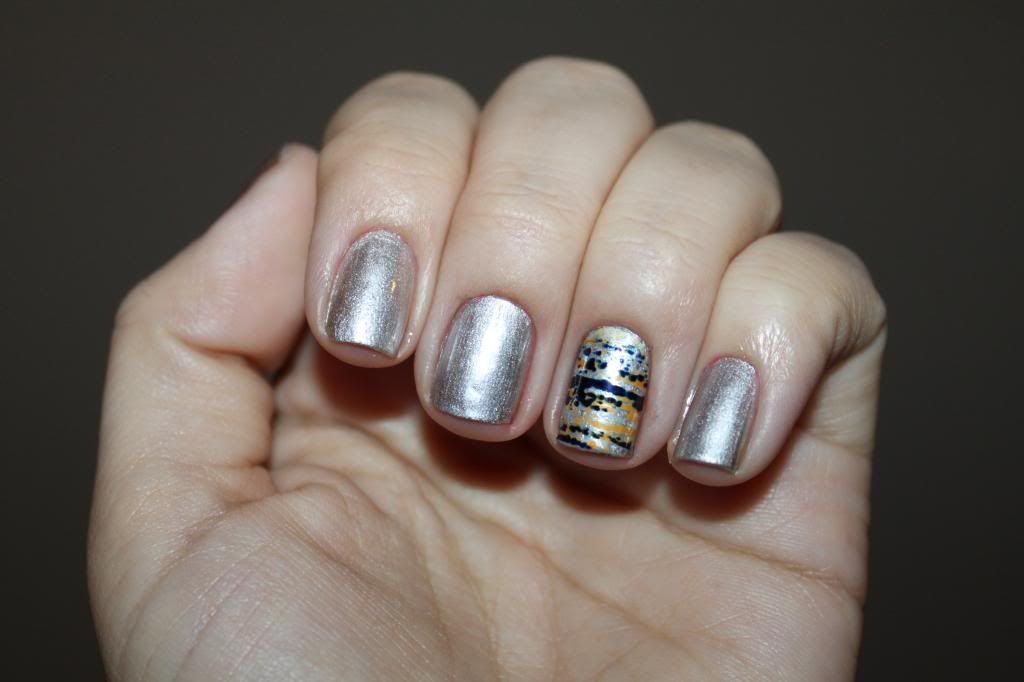 To make this mani pop a bit I added yet another accent nail to my ring finger using the nail foil Comet Trail. This one was also like a clear transfer, but it looks like it has a silver background. I love how this foil looks, and you can have it going vertically or horizontally.
Brand: Sinful Colors
pigment: a bright pink with a matte finish
price:$1.99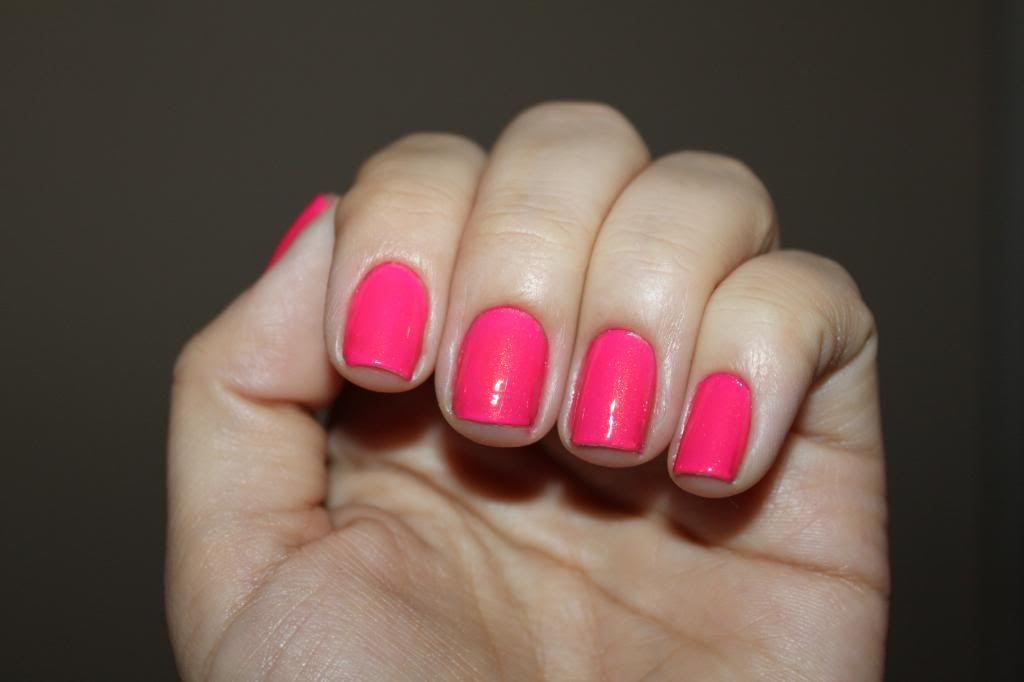 Looking at this photo I see that this polish has a bit of a gold shimmer undertone. I did add a top coat to this polish, but before that it had a bit of a matte finish. I had this polish hanging out since last summer. I chose this color to go with one of the free nail stickers I got in my Nail It magazine (I love this magazine btw!)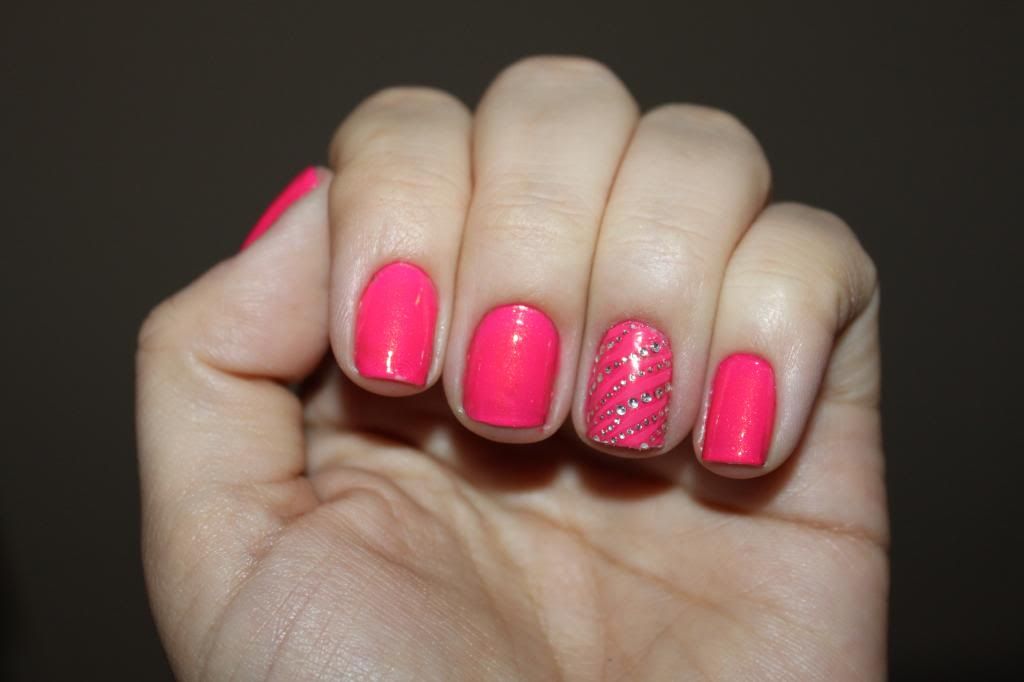 Here I used a KISS nail sticker on my ring finger as an accent nail. It was very sticky and a bit hard to file off at the free edge (I ended up kinda folding it under and trying to hide it for the photo) But other than that little problem it fit very well on my nail, and with the assistance of an orange stick it was easy to apply.
Brand: Color Club
pigment: a green shimmer polish
price:$3.99/2pc set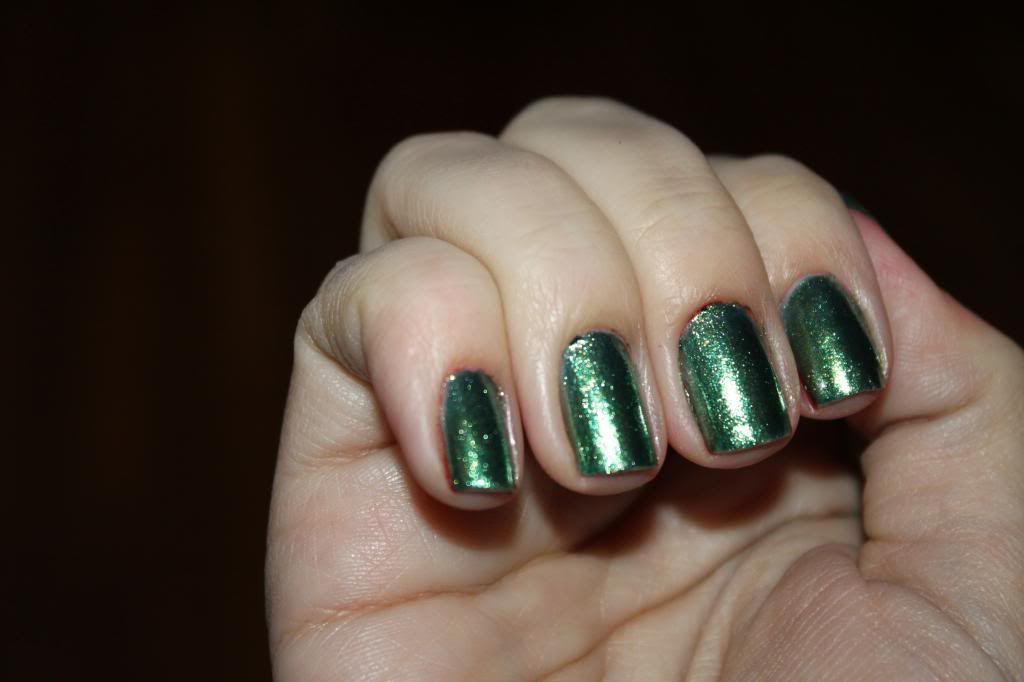 I wanted to do something with this metallic green so I only hit my nails with 2 coats, still keeping the polish on the transparent side. But I knew I was going to add a bit of art to it so I kept it that way. This is a gorgeous shimmering glitter polish. Green with a bit of a golden reflection in the light, great for St. Patrick's Day!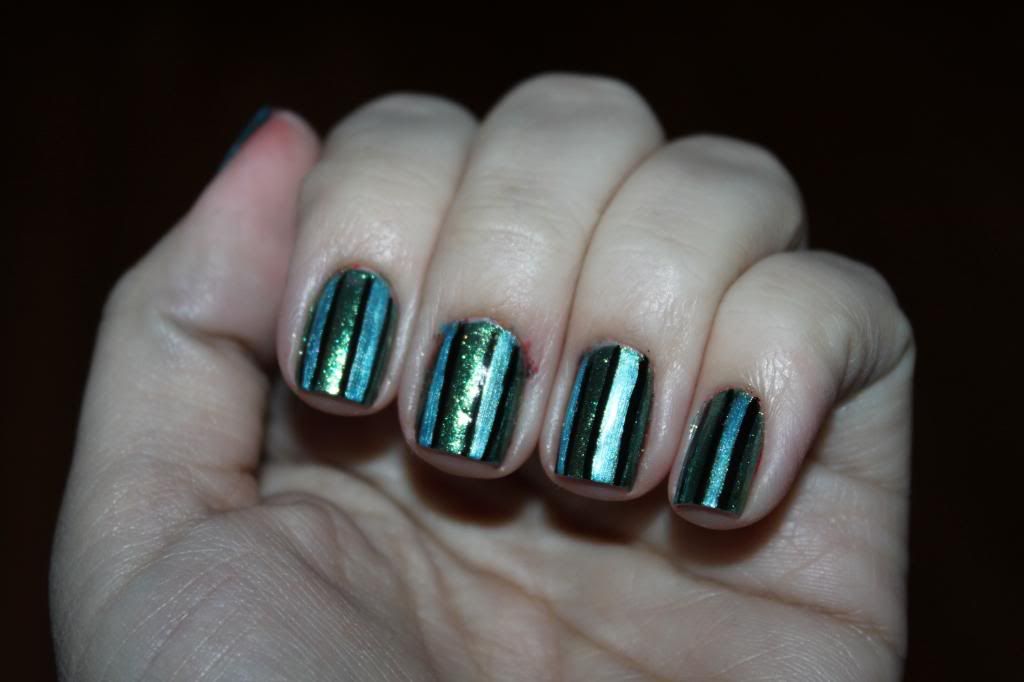 I took this green and added some black stripes, about 4 lines each nail. I filled in every other line with a metallic blue polish. I really like how the black made both polishes stand out on their own, not out doing one another. I've been having fun with a simple line design on my nails for a bit, you can't go wrong with simplicity.