A whole week away! Sorry I was away for so long, I had a very busy weekend! I went to a gaming convention this weekend and had a blast! Played some games, saw a bunch of friends and got a lot of free stuff! Also got invited to a Garbage concert last night and had a really good time! But I'm back with some polish for you! A lot of lovely Spring time colors!
Brand: Pure Ice
pigment:a bright orange with a pink undertone
price: $1.97
This color looks more pink under the flash, but in normal lighting it looks more orange. Now this color isn't as in your face as it looks (trust me!) But it very eye catching. This is a great color for the end of Spring into Summer. I'm guessing neon colors will be back in full force again next season, and this would be a great transition color.
Brand: Sally Hansen
pigment:a beautiful pastel purple
price: $1.49 (clearance)
I am loving pastel purples right now, swear it's the season. Such a calming color and gives me the feeling that Spring will be here (someday) I got this polish when Walgreens clearanced a bunch of the Hard As Nails line. I always worry about this line being on the thin side, but I have been proven wrong by a few shades I have tried. I hope they release new colors for this line, the price point is very nice and the formula (most of them) have been very nice with great coverage.
Brand: Revlon
price: $4.49
Oh talking about purple, let's go to the darker side of this color for a moment. I have had my eyes on Urban ever since it came out. One day my honey and I were out and passed a display with this polish on it. He told me to stop torturing myself and get the polish. He even pointed out that I've stopped at this color for the past few weeks (aww how sweet that he knows what colors I've been adoring!!)
I've held off wearing this polish until now. The only thing I did wrong was do my nails and went to bed, so the finish isn't as polished as it usually is (my fault) and don't even act like this has never happened to you!! Every girl has done this at least once in their life.
To try and smooth the polish out I hit it with Sinful Colors Green Ocean. Oh I love the effect of this polish over a nice dark color. It looks so beautiful in the sunlight and would look great with an outfit out on the town.
Brand: Sally Hansen
pigment:a pastel blue with white shimmer
price: $3.49
More pastel colors! Yeah, I had to try this beautiful light blue. It has a really nice white shimmer undertone to it. Sally Hansen added this color to their Xtremewear line a few months ago. This is probably my 2nd favorite line by SH other than Insta-dri. This had very nice coverage, I was worried it was going to be a bit on the thin/sheer side and would need a million coats. But it didn't, just a simple 3 coat application and I had full beautiful coverage.
Brand:Petites Color Fever
pigment:a glitter polish with yellow undertone
price: $.79 (clearance)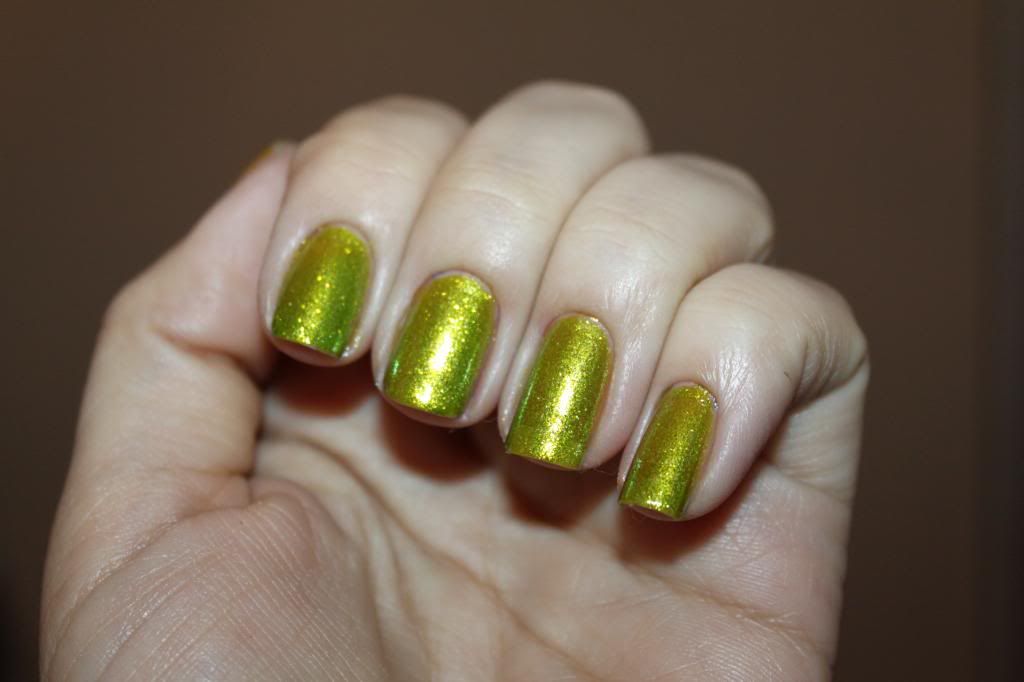 I normally don't like doing glitter polishes by themselves. You know why, taking a glitter polish off is a pain in the tush! But I wanted to try this beautiful green glitter polish on its own. This is with 3 coats, I could have added more to get full coverage, but it would have started getting thick on my nails. This polish would work beautifully with a green polish under it, or even as a glitter top coat. It's beautiful and bright, but not a really good choice for a stand alone color.
Brand: NYC
pigment:a deep metallic polish with silver shimmer undertone
price: $2.49
I wanted to try this deep gunmetal polish that NYC made. I was a little disappointing by the application of this polish, It was super streaky when I applied it. I don't mind some streaks, but it was all over every coat streak-mania going on with this color. The polish is a beautiful color, but the finish takes away a clean finish for me. Very sad about that :(
Brand:Color Club
pigment:a medium creamy purple
price: $9.99/7 pc set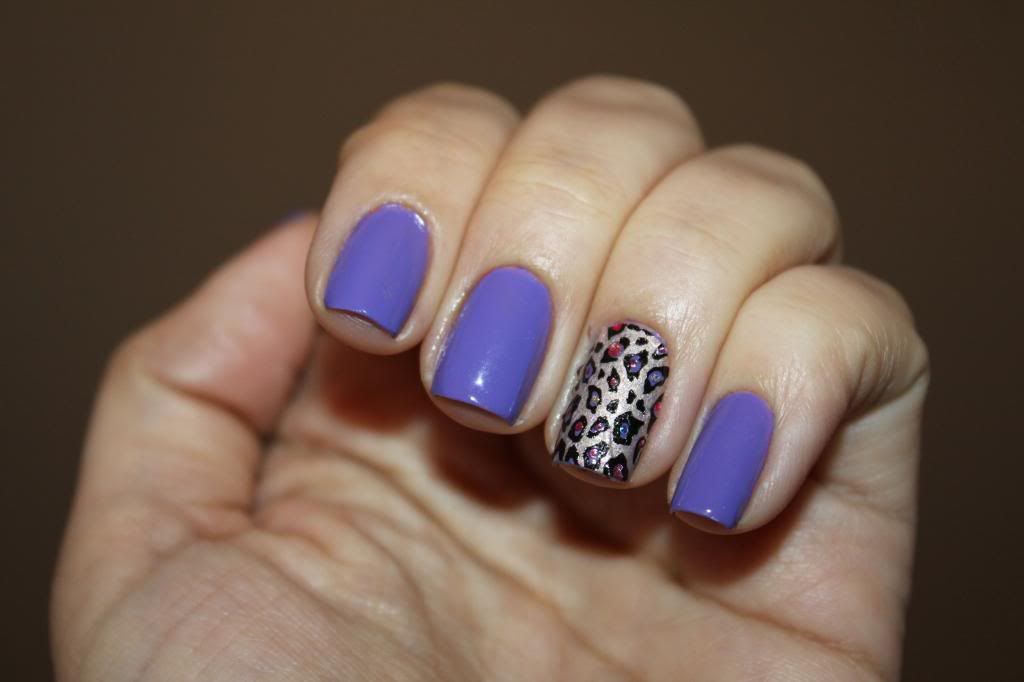 Ok with this mani I forgot to take a before photo, but you can still see the polish on every nail but my accent nail. I used Kiss nail dress from my Nail It! magazine. Let's start with the polish. A beautiful and creamy purple with lovely pigment and coverage. The nail dress matched my mani so well, and was easy to apply and remove. No sticky residue, no trying forever to remove it, no fuss. I really like these and might pick more up in the future!
Brand:Funky Fingers
pigment:a creamy pastel teal
price: $ 3/$5.00
Love this color! So bright and beautiful! Great for Spring (of course) and I feel like everyone is wearing/loving mint colors right now. Great application, but I must say the polish was a little bit on the thick side, but still had a smooth finish with the help of a top coat.
I added an orange accent nail to bring a little bit of sunshine to this manicure. These colors complimented each other so well. I was temped to add a topcoat of glitter, but held off. I thought it might take away from the colors.
one last goodie! ELF's website had free shipping last week, and the limited edition Spring polish set on sale from $14 to $10. Well I picked up both 14pc sets from the site, and I just can't wait to put this polish on! Beautiful deep colors in one pack, and light and festive colors in the other!
So be prepared to see some more ELF on my site. Also, am I the only one that can't find ELF polish in their stores? I found some in Marshall's a couple of months ago, but my Target never has them :(