Oh I'm a rebel! I'm posting a haul of some of the polishes I was lucky enough to find this past week. The Pure Ice polishes were purchased at Wal-Mart. The mini hole punchers were a pleasant find at A.C. Moore today. Last but not least the nail polish sets were discovered at my local Bed Bath and Beyond mixed in with some left over Christmas items.
I don't know if I;m the only one, but I have a really hard time finding Pure Ice in stock in Massachusetts. The only store I have been successful to find it at is Wal-Mart. Even when I go there (closest one is 30 mins away, I know first world problems) every time I go they're almost always wiped out or I have to go hunting for a side panel or endcap. These were on a side panel (like I mentioned) near the shampoo. Actually the aisle has two different side panels hanging in the back of the aisle across from each other.
It was super picked over, but I did manage to find some polishes that I didn't have, and that were just pretty.
From left to right:
Part Hard
Twist and Shot
The Secret Is Out!
Celestial
Now onto the goodies I found at A.C. Moore for $1.00 each! More mini hole punches!

I went on a trip to see if I could find and scrapbooking foil (nope,didn't find any) and was walking by an endcap and found these lovely mini hole punches hanging on a Valentine's Day display marked for $1.00 each! Now I didn't see a circle one, and now I'm just noticing I didn't pick the star one up either! I will head there soon to grab that one up.
I got one that looks like a bow and arrow and a butterfly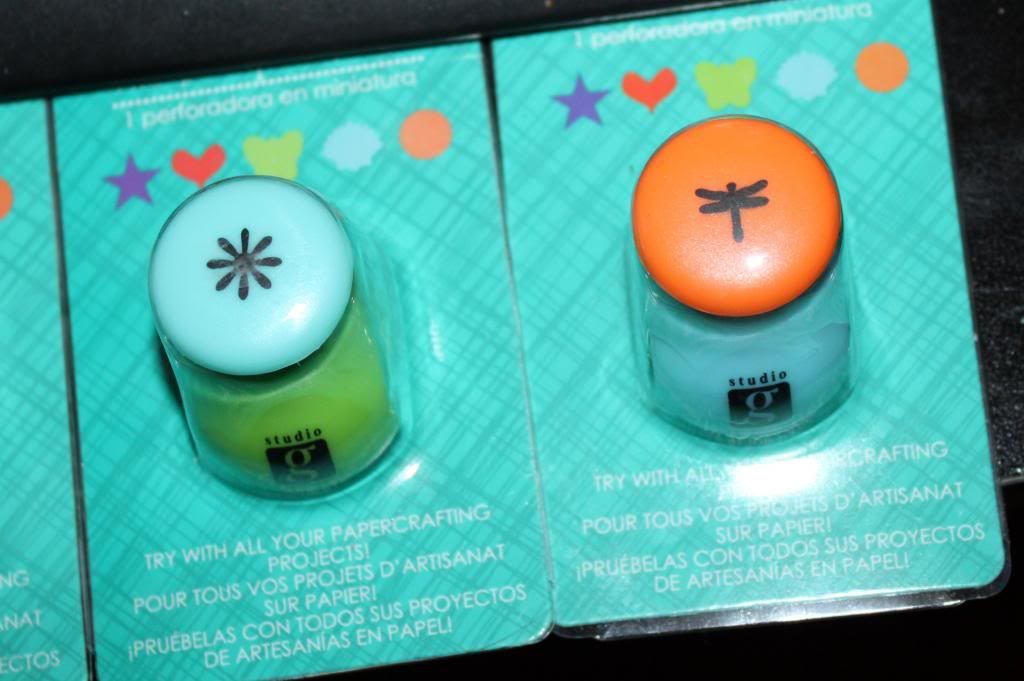 Then one that could be a flower, star or snowflake and a dragonfly.
Now onto the best deal I accidentally stumbled upon today! I stopped into Bed Bath and Beyond to find some K-cups for my mom (whole family, obsessed with coffee) well, while in the store I saw a bunch of signs for clearance.
After picking up the K-cups up I decided to see if they had anything good. Well lucky me, I found a holiday nail polish jackpot! They had these 7pc sets by Simple Pleasures marked down from $9.99 to a beautiful $2.99! They had two different sets so I picked up both. They also had 5pc mini scented bottles of nail polish for $2.99 as well, but I passed on those.
Now I looked this company up and found out they release merchandise likes socks, bags and nail polish to retailers. They have a few polish sets out there (including a Halloween one that looks awesome!) and I guess Sears and Kohls sell their things as well.
Unfortunately the polishes only have holiday stickers on the front of the bottles and that's it. No polish names or numbers on them. They seem to be an ok thickness an pigment. I won't be able to tell until I try them on. I'll take a gamble on clearance polish, why not! I hope this company makes good nail polish. I might try a color on tomorrow.
I hope enjoyed my mini haul update! Enjoy the rest of the night!